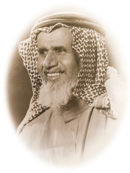 By the end of World War II and the onset of oil production from the fields of Saudi Arabia in commercial quantities, the government of Saudi Arabia embarked upon utilizing this wealth for the development of the country in many areas. A number of self-taught men recognized this transformation and became pioneers of change through their participation and involvement. Amongst such pioneers, the Founder of our Group, Abdullah Ali Almunajem (1913-1981), seeded the nucleus of the first core for the Group of Companies, now representing leading active and effective players each in their respective fields.
From the very beginnings, he decided in the early fifties to move from his hometown, Al- Qassim region, to the capital Riyadh and trade in the field of vegetables and fruits. Then, he continued on to develop his small business by importing the same products from Syria and Lebanon, which were the only key countries during that time supplying Saudi Arabia. Shortly after, he became the largest importer of vegetables and fruits in the Riyadh region.
Sheikh Abdullah survived life's many trials and tribulations, starting from his military service in Medina city in the Army of King Abdulaziz, the Founder of the third Saudi State. He learned how to read and write while serving in the army and he especially excelled in mathematics. He returned after seven years of military service to Al-Qassim to work in the caravans trade; traveling on his camel's back and forth to Kuwait, Iraq and Syria. In the early forties and as cars started to spread in the Kingdom, Sheikh Abdullah realized this transition very early and decided at that time to move to the field of traditional construction business in Riyadh. He then recognized the future prospects and decided to relocate with his family to Riyadh where he settled permanently and established his business. He and his family lived in a small house that was rented for an amount equivalent to $50 per year.
His deep vision along with his rapid execution were the key elements behind his amazing success story.  He established the first cold store in Riyadh with a mere storage capacity of 200 tons that quickly expanded in the following year to 300 tons. In the early seventies, he set up what could be considered as the largest cold store in the Kingdom with a storage capacity of 4,000 tons, which was considered as an 'extraordinary project' during that time.
He set his philosophy in business based on the compliance with the great principles of Islam, which call for honesty, integrity, fulfillment of commitment and fair treatment towards his customers, suppliers and employees. These values have continued to be a permanent philosophy of Almunajem Group.